Posts from —
November 2008
Pop Candy recommended an awesome tv-related present today, Jumbo Universal Remote from Journey's Edge.
Check out how awesome it looks:
If anyone wants to get TV Revival a present, I'll go on record saying fancy tv remotes are completely acceptable.
All that talk about my Arrested Development love and excitement yesterday led me to an inadvertent game of "One Degree of Jeffrey Tambor," and the subject of today's post: The Larry Sanders Show.
Larry remains one of HBO's best original series of all time to this day, even though it ended ten years ago. It sticks in the communal craw of us Larry fans that the complete series isn't available on DVD yet, but the two DVD sets they relased last year, The Complete First Season and the irritatingly incomplete Not Just the Best of the Larry Sanders Show, are better than nothing.
I've worked a couple of jobs in late night television, so this series has an especially special place in my heart, and friends might find me laughing a little too hard at some of the jokes. Plus, there are loads of funny celebrity cameos, with one of the best pictured above.
Anyway, somehow I never got around to buying those DVDs when they were first released, so at least now I know what I'm asking for this xmas!
But, not when there is BIG NEWS. The fabled Arrested Development movie is officially happening! Officially. Jeffrey Tambor said. So there.
In case you didn't know, AD is only the best show ever that is not The Wire, so this is huge. Sadly, both shows are now off the air. Much less sadly, I have both series on DVD.
Typically, my initial reaction upon hearing that [insert TV show] is being turned into a movie is to nurture unreasonable confidence that the movie version will definitely suck. South Park: Bigger, Longer and Uncut proved that this is not always the case, and handily. In fact, it proved that sometimes the movie version of a beloved show can become a real classic. (Note: This does not apply to The Simpsons Movie.)
Besides, Mitch Hurwitz's brilliance is enough for me to already be excited about the prospect of the movie that is finally really, really happening. So, considering the amazing cast (Will Arnett, Michael Cera, Jason Bateman, David Cross, Tony Hale, Jeffrey Tambor and also okayfineyougetthepoint), it's statistically impossible for the AD movie to suck. Impossible, I say!
I don't know how this happened. One day I'm forced to watch Gossip Girl for work (yes, I do indeed have to watch TV for my job; it's a tough life I lead, I know), and then the next thing I know I'm watching it– dare I say it?– at home, weeks later. Off the clock!
It started innocently enough. I didn't even program a season pass, or anything. "No, no, that would be ridiculous," I said aloud to myself, even though I AM NOT CRAZY. "I only need to tape next week's episode to see if Chuck finally gets Blaire to say she loves him, and then I'll be totally over it. Yes, that's the ticket."
Cut to: This week, wherein I was setting up my DVR to record all Gossip Girl episodes. Yes, first run and repeats!I Hey, I'm a recent convert and have to catch up on some backstory, via reruns.
I'm so ashamed.
The writing is absurd, and none of these "high school" kids appear to be under the age of 25– and they certainly don't behave that way, what with all the sexin', drinkin' and schemin'. Plus, this Chuck Bass character is constantly whispering. Seriously. I don't think he ever speaks in full voice. And his attire is consistently ridiculous. Having said that, I'd totally hit it.
Anyway, a new episode of GG will be on the CW tomorrow night at 8, and I just have to find out it Jenny beats the crap outta Agnes for burning all of her dresses. I can't believe she did that!
Um. I'll stop now.
If you've been paying attention (and why would you be?), you know by now that I lurve stand-up comedy. While stand-up on teevee can never compare to seeing a brilliant comic at a live show, there are some classic stand-up specials from the likes of Eddie Murphy, Dave Chappelle, George Carlin, Chris Rock and others, that many of us peasants would never have seen if it weren't for TV. Tonight, Ricky Gervais is trying his hand at joining that esteemed echelon of televised hilarity.
Gervais has already proven his mettle in the sitcom format, with the original The Office and later, Extras. Apparently, he's new to doing actual stand-up comedy, so I guess he's taken the "go big or go home" approach, by beginning his foray with an HBO special that was taped at Madison Square Garden. That's one way to go.
The teasers for the special that I have seen look pretty effing funny, but that is what they're meant to do. Still, I'm pretty excited for the special tonight, and I'm pretty sure it's going to not suck. Check out Ricky's special, Out of England: The Stand Up Special tonight at 9p eastern and 10p pacific on HBO. You already know I will be, and therefore that makes it cool.
I came across a random picture from "Beetlejuice", the cartoon spun off from the amazing Tim Burton film, and realized I watched that show every Saturday morning. I don't even think I liked it at first, but after awhile it was a staple of my television cartoon menu.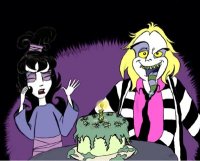 In the tv series, Lydia and Beetlejuice are besties who hang out all the time seeing how Lydia is anti-social. She would much rather hang out with the dead than living people. The gothic duo would travel to the "Neitherworld" whenever Lydia had the time. Lydia was such an awesome character in the movie, who wouldn't want to watch what chick does in animated form? She's like quintessential anti-social, kinda goth, really smart girl character before MTV gave us my favorite cartoon nihilist, Daria.
"Beetlejuice" ran for four seasons, starting out on ABC for three years and then finishing up on Fox for its last season. If you're feeling nostalgic for late-eighties/early nineties animation, the Blu-Ray edition of the Beetlejuice dvd contains a few episodes of this series. And if my memory serves me correctly, I think The N airs episodes every blue moon or so. Beware, the cartoon was made for kids, so it's somewhat lighthearted in comparison to the movie. No word when the actual tv series will be on dvd yet.
"Lost" will return on January 21, 2009! I can't wait!
I'm a big fan of the animated series, "Home Movies", so it delights me to no end that they released a special 10th anniversary dvd box set.
This dvd set is all kinds of awesome! It comes with a "Home Movies" clapboard like Brendan, Jason, and Melissa use on the show,  a canvas bag AND a 52 track cd that contains all the original songs from the show. And of course, it includes all four seasons' original dvd sets with the all the original bonus features and commentary. The "Home Movies" box set costs between $90-129.99, so this may have to wait for christmas time or whenever I get an awesome dvd discount coupon in my inbox.
I hate Entourage. I also watch it every week. I used to think that maybe I was addicted to the hate, but I've realized that watching this horrible show about a self indulgent, talentless, rich douche bag and his varyingly loathsome cronies seems to be a cultural imperative for anyone working in or on the periphery of showbusiness. Unfortunately for me, a degree from film "school" and my current job place me quite definitely in this group.
At this point, I've accepted Entourage as my way to kill 22 minutes while 60 Minutes begins recording on my DVR (hooray for HBO's east coast feed), so that I can fast forward through the 60 Minutes commercials. Jeremy Piven's portrayal of Ari is still marginally amusing, and that helps to quell my tantrums whenever the rest of the idiots spontaneously jet-set off to Hawaii in a private plane full of models. Yes, that actually happened this season.
Anyway. The whole point of this was that I'm pretty sure they teased tonight's episode with a cameo from Seth Green during last week's preview. Seth will be playing the jerkoff version of himself that he's played in past episodes of Entourage. For what it's worth, I met Seth once years ago and he was really awesome, so I guess he's even more awesome for being a good sport on this show. I've forgiven him for Robot Chicken.
So, tune in to HBO for tonight's episode of Entourage at 10p eastern time. Or, you can do ANYTHING ELSE, which would probably be better way to spend your time.
Considering my typical blog fodder is complaining about shows like America's Got Talent and Paris Hilton's My New BFF, it wouldn't seem likely that I ever watch something that doesn't cause my eyes to vomit blood and my brain cells to flip me off. Well, it turns out that I do.
That up there is a kind of old picture of Keith Olbermann. He's one of the top dogs over on MSNBC, along with the inadvertently hilarious Chris Matthews, the extremely uncharismatic David "Ape Face" Gregory and, of course, Rachel Maddow. Sorry, I don't have a joke/comment for her, since she's quite bright and I pretty much like her. Watching all of the election coverage over the past several months has practically made the MSNBC anchors my BFFs. What? I'm sure if you asked them, they'd all agree.
Keith's  nightly news show, Countdown with Keith Olbermann, is a staple in my teevee diet. Keith matches Bill O'Reilly in arrogance, but trounces him in all other areas, like charm, wit, logic, reasoned thinking… You know, these kinds of things. In short, I like Keith's arrogance, since I usually agree with him anyway, and that's way more than I'll ever be able to say about Bill O'Reilly, who is simply an awful awful man.
Plus, MSNBC news has finally gained some traction in the ratings and has been giving The O'Reilly Factor and the rest of the Fox News bunch cause for pause, forcing "Papa Bear" to resort to an on air whine-fest full of conspiracy theories about cooking the numbers. Real mature.
So, get a dose of Keith, Chris, Rachel or even David Gregory, next time you turn on the picture box. Okay, seriously, not David Gregory, but any of the others will do. Consider it intellectual penance for all the time you wasted watching The Girls Next Door.